Lourdes holy water
The water of Lourdes is famous for having permitted the miraculous healing of very ill people (victims of paralysis, cancer, or often-incurable diseases).

Every year, thousands of pilgrims visit the sanctuary of the city of Lourdes, in France, to pray to the Virgin Mary and Our Lady of Lourdes. Of course, a miracle does not happen every time, but many sick people report that water from Lourdes and prayer helped them heal, or at the very least helped them feel better, in both body and heart.

A trip to Lourdes can change your life! Come join us at the shrine!



Water of Lourdes by mail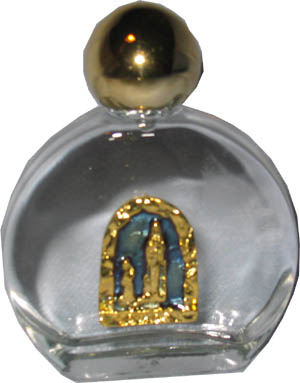 Those who live in France may easily make the trip to Lourdes to feel the benefits of the miraculous water from Lourdes. This is obviously more difficult for those who live abroad (in the United States, in South America, in Asia ...).

Praise God, it is possible to order bottles bearing the image of Our Lady of Lourdes. These bottles of water will be delivered to you filled with the true holy water from Lourdes.



Light a candle in the sanctuary of Lourdes
The pilgrims who go to Lourdes usually light a candle for ill or deceased relatives. Thanks to the Internet, it is also possible to request that a candle be lit for yourself or your loved ones inside the shrine.

This candle, specially lit at your request, may be accompanied by a short message or a short prayer. We can light a candle in sanctuary for your on this web page.





The magic of Lourdes delivered by mail anywhere in the world
If you are unable to make the trip to Lourdes because France is too far away, you may also order Catholic objects from Lourdes online. Wear your faith with the medal of the Virgin Mary which contains water of Lourdes, or the rosary representing Bernadette Soubirou, witness to Mary's apparition, both available in the online store.